THE FIGHT OF OUR LIVES

Our political system has been rigged by the corruption of money in politics, 
a radical Supreme Court, voter suppression, and lack of transparency
and public oversight of our voting system.

The National Election Integrity Coalition (NEIC) is coordinating
a network of citizen activists and NGOs working in 50 states. 


Our mission is to help build a cooperative, holistic grassroots movement to take back American democracy.
 
---
---
---
The Democracy Movement is growing nationwide.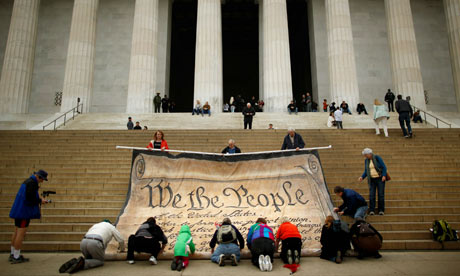 PETITIONS
---
NEW HAMPSHIRE REBELLION PETITION
Petition the candidates in the 2016 presidential primary to answer one question: How are you going to end the system of corruption in Washington?



---
MOVE TO AMEND PETITION

We, the People of the United States of America, reject the U.S. Supreme Court's Citizens Unitedruling and other related cases, and move to amend our Constitution to firmly establish that money is not speech, and that human beings, not corporations, are persons entitled to constitutional rights. 


---
US PIRG CITIZENS UNITED PETITION

We're calling for a constitutional amendment that would overturn the Citizens United decision and stanch the flow of unlimited spending by moneyed special interests, returning our elections to the principle of "one person, one vote."

Sign the petition for local resolutions.


---
COMMON CAUSE PETITION 

The Supreme Court has allowed major corporations and other special interests to pour hundreds of millions of dollars into our elections, effectively buying up chunks of our federal, state and local governments. It's time to choke off this corrupting flow of money.

Sign the petition for a constitutional amendment to reverse Citizens United and declare that only people are people. 


---
 SIGN UP FOR NEIC UPDATES
Like us to spread the word